Kyocera

Other bone fillers take the form of pastes, putties, sponges and foams, all of which have major issues. Handling characteristics, mixing challenges, or simply
becoming a monolithic block are all compromises; none of which permit the easy movement of the patient's fluids required to support living cells.
ReBossis BioSynthetic

ReBossis is a unique new biosynthetic scaffold made of "tried and true" materials that have been successfully used in orthopedics for over 30 years. Poly Lactic-coglycolic acid, PLGA, silicate calcium carbonate and beta tri-calcium phosphate. The patents pertain to how OrthoReBirth USA uniquely combines the three by electro-spinning the formula into its distinctive "cotton like" form.
One Level Stand Alone With Lordotic Restoration ~ Adjacent Level Fixation Without Plate Removal
Kuros BioScience
Kuros Biosciences (SIX:KURN) is focused on the development of innovative products for bone regeneration and is located in Schlieren (Zurich), Switzerland and Bilthoven, The Netherlands. Visit www.kurosbio.com for additional information on Kuros, its people, science and product pipeline.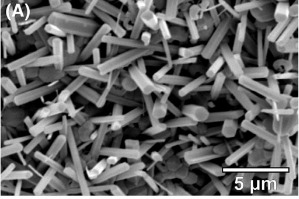 Kuros Biosciences wins
2020 Spine Technology Award
Schlieren (Zurich), Switzerland, November 20, 2020 – Kuros Biosciences (SIX: KURN) today announced that it has won the 2020 Spine Technology Award, awarded by the widely-read industry publication Orthopedics This Week for outstanding innovations in the field, for its Fibrin-PTH (KUR-113) technology, which delivers targeted and controlled bone formation.
The prestigious award rounds off a year of strong progress for Kuros. Sales of lead product MagnetOs are accelerating, and the company has successfully initiated the STRUCTURE Phase 2 study with Fibrin-PTH, the first investigational trial of a drug biologic bone graft for spinal fusion. Fibrin-PTH targets a substantial clinical need in orthopedics and neurosurgery and addresses a significant unmet need.
The 2020 Spine Technology Award is the second prize won by Kuros this year, following an award in the Best Spinal Surgery Solutions Provider 2020 in GHP Magazine's 2020 International Life Science Awards.
Joost de Bruijn, Chief Executive Officer of Kuros, said: "We are honored to have received the 2020 Spine Technology Award in recognition of Fibrin-PTH. Kuros has had an exciting year, with accelerating sales of MagnetOs and clinical progression of Fibrin-PTH. We look forward to continuing this progress in 2021 with a reinforced financial position following our upsized capital raise. I would like to thank Orthopedics This Week for their consideration of Kuros, which rewards the hard work and dedication of our employees and support of our investors."
Fibrin-PTH (KUR-113) promotes bone formation through the induction of osteoprogenitor cell differentiation, enhancement of osteoblast proliferation and by increasing the lifespan of bone-forming cells.
Fibrin-PTH (KUR-113) is entering Phase 2 clinical trials for spine fusion in humans.
Fibrin-PTH (KUR-113) is the first ever investigational drug-biologic product candidate being evaluated for spinal fusion.
"Biphasic calcium phosphate with submicron surface topography in an Ovine model of instrumented posterolateral spinal fusion"
Lukas A. van Dijk, et.al.,

JOR Spine. 2018;e1039, Research Article, DIO: 10.1002/jsp2.1039 06November 2018



About the study:
MagnetOs Granules and MagnetOs Putty were implanted standalone and compared to autograft bone.
Twenty-five adult, female Merino sheep underwent posterolateral spinal fusion at L2-3 and L4-5 levels with instrumentation. After 6, 12, and 26 weeks, outcomes were evaluated by manual palpation, range of motion testing, micro-computed tomography, histology and histomorphometry. Fusion assessment by manual palpation 12 weeks after implantation revealed 100% fusion rates in all treatment groups. Similarly, the three treatment groups showed a statistically significant decrease in lateral bending at the fusion levels at 12 weeks and 26 weeks compared to the 6-week time-point, which further confirmed spinal fusion. No significant differences in range of motion were observed between the treatment groups at any of the time-points investigated.
Histological assessment at 12 weeks showed fusion rates of 75% for Autograft, 92% MagnetOs Granules, and 83% MagnetOs Putty.
The fusion rates were further increased 26 weeks post-implantation. Similar trends of bone growth were observed by histomorphometry.
Citation: https://onlinelibrary.wiley.com/doi/pdf/10.1002/jsp2.1039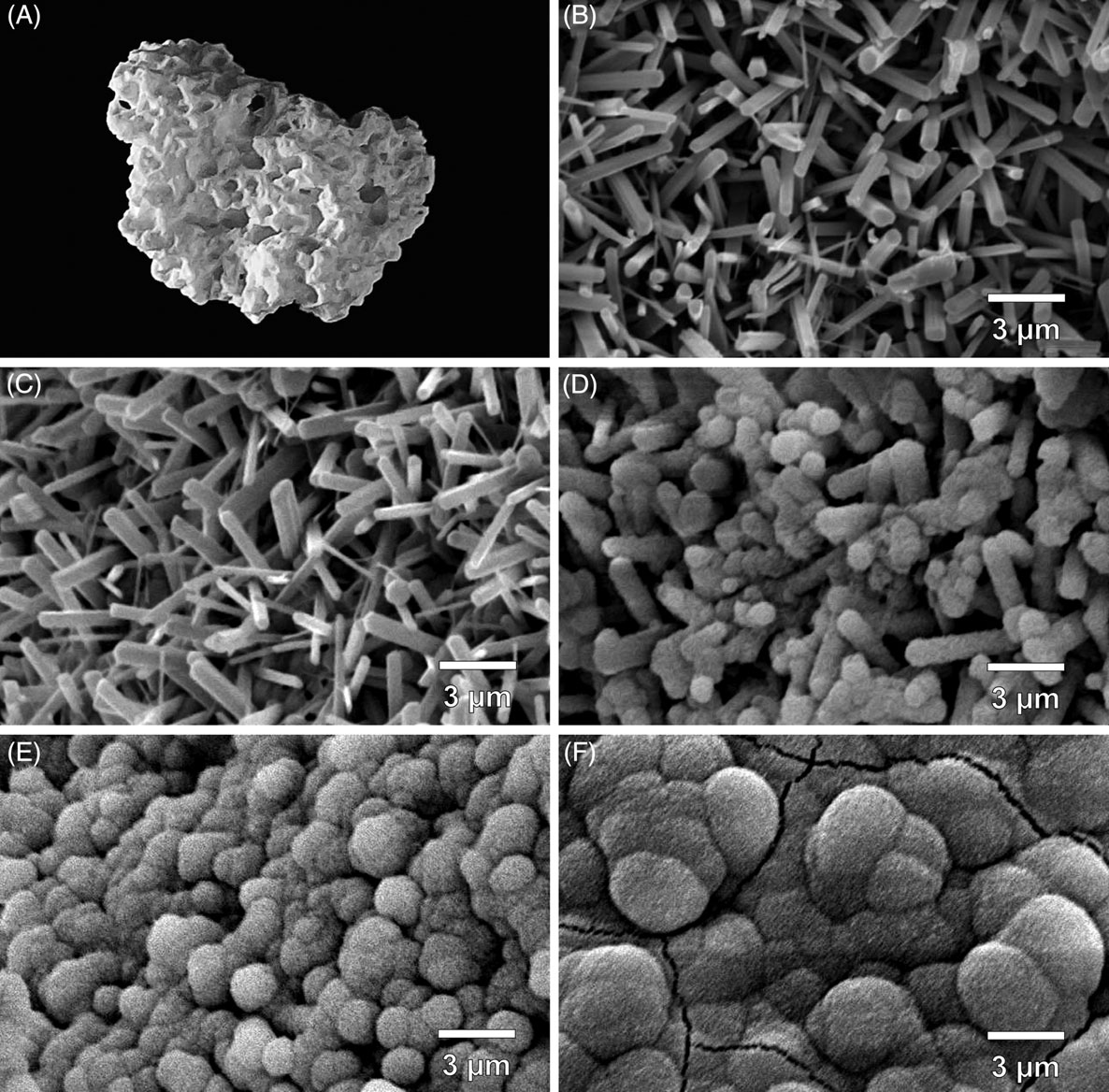 (A) Porous BCP granule of 1-2 mm in size (B) submicron surface topography of epitaxial polygon crystals
Submersion in SBF resulted in the progressive formation of an apatite-like mineral layer on the material surface as shown by SEM after (C) 2 days, (D) 4 days, (E) 7 days, and (F) 10 days
Correspondence: Joost D. de Bruijn, School of Materials Science and Engineering, Queen Mary University of London, UK. Email: j.d.debruijn@qmul.ac.uk